Portfolio Management
Credit Portfolio Managers are dealing with growing complexity. We help our customers to measure and manage portfolio-level risk and return. Properly identify contextual and behavioural features of the existing portfolios is key for Lenders to be able to review their conditions ongoing and at the same time keep credit risk under control. Improve cross selling of new products and top up on existing products are strategic streams of every Lender's growth.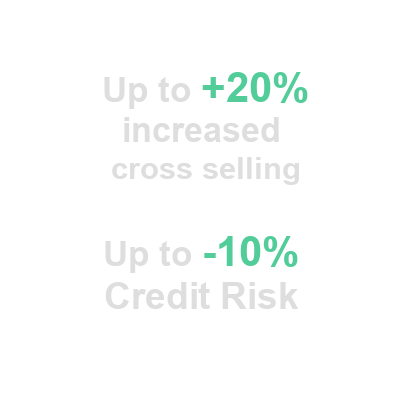 We help our customers to take their lending to the next level with streamlined borrower acquisition, Automated Processes and integrated Artificial Intelligence.
Eliminate manual work, reduce operating costs and empower your team with AI-powered workflow automation tools.

Expand your addressable market with an omnichannel approach and delight your customers with a next-generation digital experience.

Utilize better data and machine learning models that outperform traditional scores to reduce losses across your portfolio.
Cross Selling Scoring
Drive revenue by retaining existing customers is the name of the customer success game. Cross-selling and upselling have huge ROI. It's 5-25X more expensive to acquire a new customer than it is to retain an existing one. Our scoring engines support Lenders to identify and retain the right customers.
Cross Selling Insights
Successful cross-selling and upselling is making an offer that's appropriate for where the customer is at that time. Our solution provides Lenders with a pulse on the customer and what products and services they're using and what they still need to achieve their goals. Our Insights are a key component for our Customer's strategy.
Early Warnings Scoring
Take advantage of the customer data potential and transform operations from passive/reactive to proactive and predictive. We use millions of data from thousands of data sources to provide a suite of early warnings that help Lenders to properly and timely make decisions and take actions.
Early Warning Insights
Constant logging and monitoring of the discrete data points creates a unique detection opportunity. We collect signals about everything happening to borrowers. These meaningful higher-level events represent both risks and opportunities that a customer success organization can make a good use of.
Identity Verification
Keep Customers Identity Data correct and aligned is a complex and expensive task for all Lenders. We access a wide range of data sources and analyse structured and unstructured data using AI to make the process of identifying high-risk clients even easier for enhanced due diligence processes.
Affordability Calculator
Cross Selling strategies are key for all Lenders. We offer an automated Income and Expenses calculator that allow to address Cross Selling activities while keeping Risk under control. Our AI engines leverage a wide set of digital data points to automatically classifies income and expense and calculate affordability.