Collection & Recovery
Debt collection in finance is starting to be disrupted by artificial intelligence due to the availability of massive amounts of historical records of customers for banks and other financial institutions. Our solutions have real-world business significance for debt collection. We improve collection performances by personalizing communications to customers and identifying clusters of similar debtor profiles and their probability to repay their debt.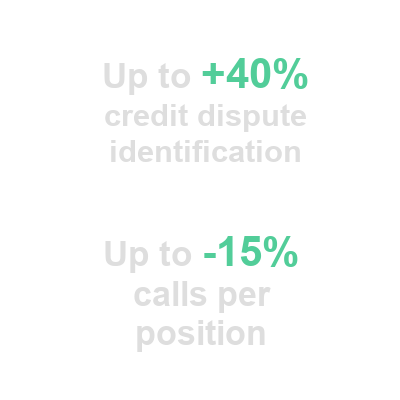 We apply high-end technology to support the full collection cycle. We use pervasive data from the initial contact to the final payment.
For a better experience, collection agents must have insight into how and when to engage with whom and through which medium.

AI can provide a complete contact and treatment strategy so that the experience is effortless and personalized for customers.

Utilize better data and machine learning models that outperform traditional scores to reduce losses across your portfolio.
Collection Scoring
Our debt collection recovery models are designed to be integrated into our customers operations to increase collected amounts and optimize resources. We leverage structured and unstructured data and state-of-the-art blended models to assess the creditworthiness of a delinquent borrower.
Collection Insights
In the world of debt collection, there is a lot to consider as you build a strategy to identify accounts that have the greatest recovery potential. Score delinquent borrowers and prioritise activities is not enough. A robust collection strategy drives actions through deep contextual and behavioural insights of the borrower.
Collection Calls Transcription & Summarization
Collection phone calls are an incredible source of information that could be used to design a successful collection strategy and properly address actions on delinquent borrower. Anyway, very rarely these conversations are transcribed and leveraged. Our AI's solutions enable our customers to transform phone calls into actionable insights.