Acquisition & Underwriting
Higher approval rates, lower default. We leverage Artificial Intelligence on structured and unstructured data to deliver underwriting solutions that provide a significant improvement over the current best-in-class industry approach. That translates into more accurate credit decisions, which leads to increased credit availability for borrowers and higher repayment rates for lenders.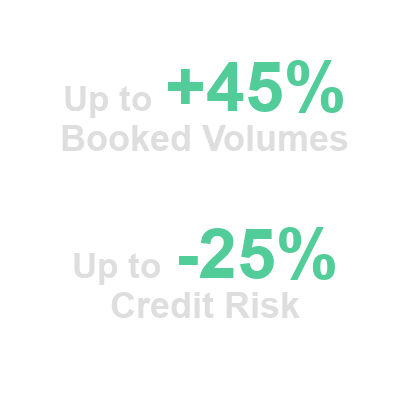 We help Lenders to use new kinds of data to evaluate borrowers and we help Borrowers to unlock the power of their data to enable financial inclusion
Traditional credit scores don't apply to everyone, especially migrants, students or freelancers.

Give a fairer treatment to the great customers of the future with an alternative, especially suited for fintechs, start-ups, insurers and banks.

New ways to evaluate borrowers' creditworthiness are emerging thanks to innovation in data collection and analysis.We're a team of creative and experienced designers and developers. We used to work as freelancers and we know what do you need and more that, we know what do your customers want from you.
Instant Credit Scoring
We have created algorithms combining Digital Footprints, Human Science and Artificial Intelligence. We don't just make conclusions based on the interplay of a few historical financial statistics of the consumer. We take a deeper look at the person, their character, their mood, their social interactions and determine a personal profile towards financial relationships.
Underwriting Insights
Underwriting involves making decisions that are high-impact yet complex in nature. The majority of the time, however, underwriters are too busy trying to search, access, aggregate and understand information to gain real insights that can assist with decision-making. We provide a set of key data to help them making reliable and profitable decisions for the organization.
Identity Verification
Our Identity Verification helps companies improve conversion rates, comply with AML and KYC regulations, and better detect fraud while delivering a definitive yes/no decision in seconds. We access a wide range of data sources and analyse structured and unstructured data using AI to make the process of identifying high-risk clients even easier for enhanced due diligence processes.
We offer a fully digital experience for loan applications through our automated Income and Expenses calculator. AI engines leverage PSD2 & Open Banking data combined with a wide set of digital footprints and information extracted from digital and non-digital documents to automatically classifies income and expense transactions that are used to calculate affordability.