Compliance & Regulatory
Automate, simplify, and streamline compliance activities and workflows. Transform the way your compliance team manages regulatory change without a complex solution or increased headcount. Our solution is made specifically to address the problem of managing regulatory change and mitigating compliance risk. Our transparent AI- approach leverages the domain expertise of industry professionals alongside machine learning to give you insights you can trust.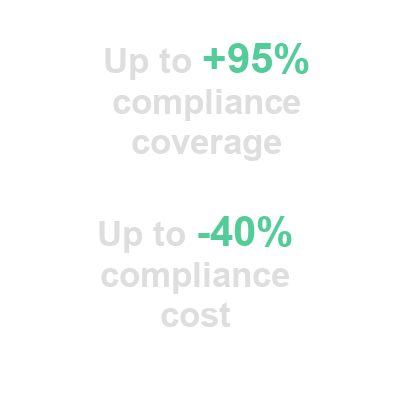 We help our customers to simplifies and strengthens compliance, improves visibility into control effectiveness, and helps ensure timely issue remediation.
Manage a wide range of compliance requirements in an integrated manner, aligning internal policies, standards, laws, and regulations.

Streamline compliance processes with standardized workflows and support for self-assessments, controls, and issue remediation.

Avoid the risk of compliance violations, penalties, and reputational damage with timely insights on compliance readiness at each organizational level.
KYC Support
Know Your Customer, or KYC is an important part of any business. In order to provide financial services online, companies need to have methods for remote identification in order to be aligned with KYC standards. Our solutions support to make the KYC process simpler leveraging a wide range of Data Sources.
Calls Compliance
Businesses are incurring high costs to monitor customer channels for compliance breaches. Our Compliance Score assign to every conversation a risk class representing the probability of the call to not be Compliance. Our Insights frovide key fact and events that complete the analysis of the call and the compliance alerts triggered.
Disputes Classification
Customers dispute charges for a variety of reasons. We use advanced Machine Learning Algorithms to classify conversations and address them to different workflows. Automating the disputes management process is a sure way to improve efficiency, do more with less staff, and reduce days disputes outstanding
Calls Voice Masking
In many cases for Compliance and Privacy requirements, voices need to be modified, changed and disguised to ensure the speaker could not be recognised. We use sophisticated algorithms to ensure that our anonymized voices keep the same audio quality of the original ones while ensuring a full respect of regulatory requirements.